HYPERION's objectives are:
Reliable quantification of climatic, hydrological, and atmospheric stressors employing quality-assessed numerical modeling results for selected CC scenarios in the historic areas under consideration, covering processes and interactions from the short-term to the long-term (10-60 years).
Multi-Hazard modeling covering single, contemporaneous (e.g., extreme temperature, humidity, wind, air pollutants) and cascading (mudflow/landslide after rain, etc.) hazards. Deterioration patterns and dose-response functions of building materials will be integrated in Heat, Air & Moisture (HAM) simulations
Analysis of bulding materials and deterioration processes
Implementation of a Hygro-Thermal (HT) simulation tool that considers the coupled HAM transport phenomena through structure's elements under specific scenarios.
Improved prediction of Structural and Geotechnical (SG) safety risk of the structures through the use of simulators that exploit monitoring data from various sensors.
Environmental and material monitoring including state identification and damage diagnosis: novel Computer Vision (CV) and Machine Learning (ML) algorithms will be implemented to exploit sensors, such as visible spectrum cameras, hyper-/multi-spectral cameras, thermal/infrared/Ultra-Violet sensors, to get a precise inspection of CH sites. 
MDesign of a Holistic Resilience Assesment Platform (HRAP) and a Decision-Support-System (DSS), enabling communities' participation.
On-site Integration, Demonstration, and Validation of the HYPERION platform through case studies in Greece, Italy, Norway, and Spain.
Project Handbook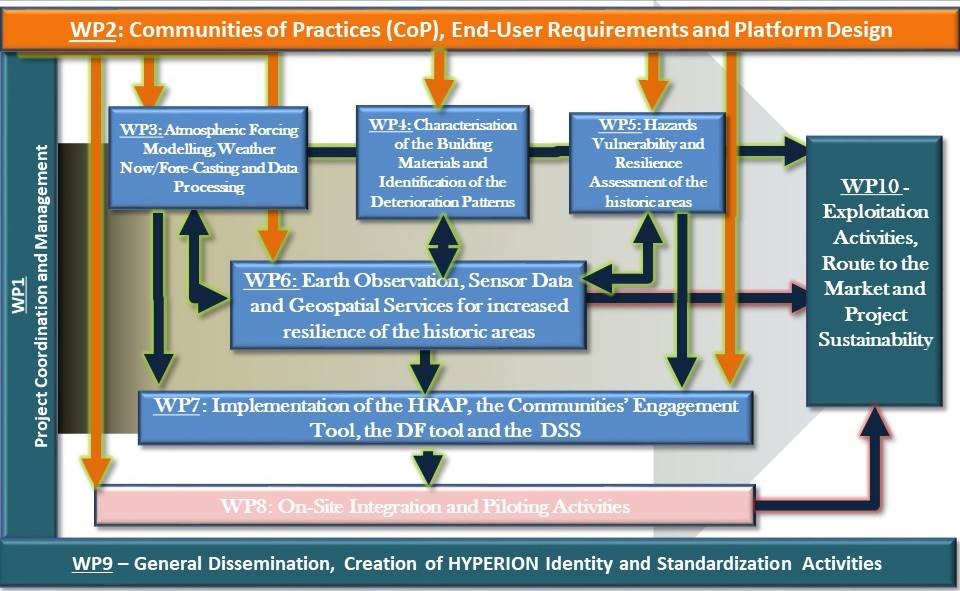 Scientific and Technical Objectives (STO):